Marathon on Digital Humanities
DiPText-KC is pleased to announce Maratona DH – Eccellenza in Testa, which will take place from 10 to 14 October 2022 through several events aimed to the dissemination of the results achieved by the project Department of Excellence, dedicated to Digital Humanities.
The events are organized by five Departments of Excellence working in the field of Digital Humanities at the University of Verona (UniVR), the University of Bergamo (UniBG), the University of Udine (UniUD), the University of Modena and Reggio Emilia (UniMORE) and the Ca 'Foscari University of Venice (UniVE) and have the patronage of the Association for Digital Humanities and Digital Culture (AIUCD).
Some of the events will be open to citizens.
Calendar
UniVR, 10/10/2022
UniBG, 11/10/2022
UniMORE, 12/10/2022
UniVE, 13/10/2022
UniUD, 14/10/2022
---
The Venetian events, introduced by Franz Fischer (UniVE | VeDPH), will be attended, among others, by Monica Monachini (CNR-ILC | CLARIN-IT), Federico Boschetti (CNR-ILC | CNR-ILC URT at VeDPH), Riccardo Del Gratta (CNR-ILC | CLARIN-IT | ILC4CLARIN), Angelo Mario Del Grosso (CNR-ILC | VeDPH) and Francesca Frontini (CNR-ILC | CLARIN ERIC).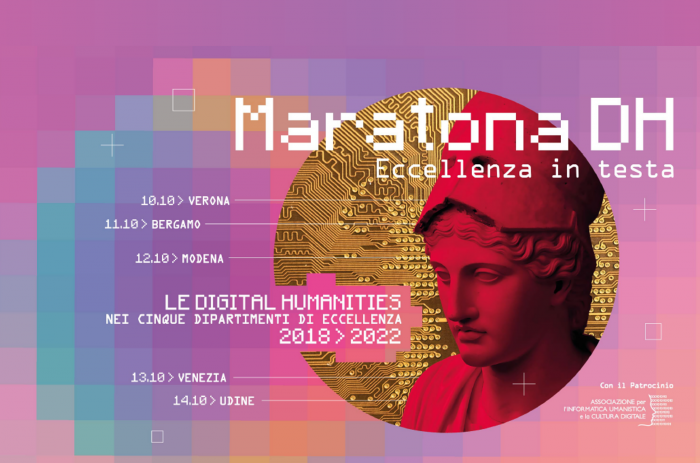 ---
---
Registration
In order to follow the live Zoom streaming, it is necessary to register here by 12:00 of 09/10/2022.
Scientific and Organizing Committee
Marina Bondi (UniMORE)
Maria Grazia Cammarota (UniBG)
Emanuela Colombi (UniUD)
Franz Fischer (UniVE)
Paolo Frassi (UniVR)
Information
data.eccalingue@unibg.it (UniBG)
digitalhumanities@unimore.it (UniMORE)
maratonadh@uniud.it (UniUD)
eventidsu@unive.it (UniVE)
laura.scappini@univr.it (UniVR)