CLARIN 2023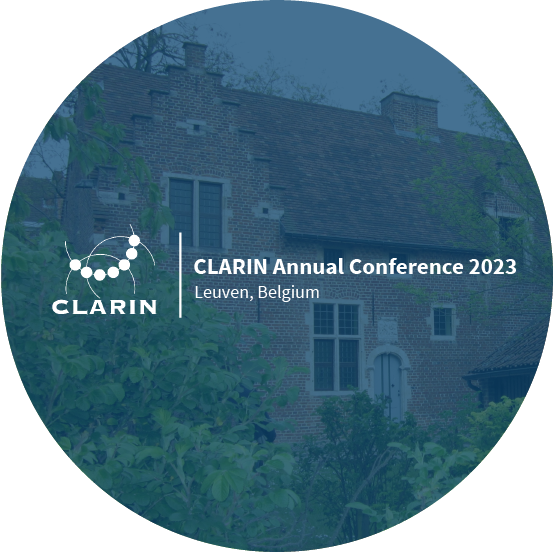 The 12th CLARIN Annual Conference (CLARIN 2023), organized by CLARIN ERIC in collaboration with KU Leuven, CLARIN-BE and the Instituut voor Nederlandse Taal, will be held from 16 to 18 October 2023 and will be chaired by Krister Lindén (University of Helsinki, FIN-CLARIN National Coordinator).
Following the success of the hybrid format of the 2022 edition, the same format will be applied to the 2023 edition: the venue for the face-to-face event will be the Heritage Campus of the Irish College of Leuven; the platform for the virtual event will be Zoom.
CLARIN 2023 is organized in order to exchange ideas and experiences within the CLARIN Infrastructure, including the design, construction and operation of the CLARIN Infrastructure, the data, tools and services that it contains or for which there is a need, its actual use by researchers, its relation to other infrastructures and projects as well as its relation to the CLARIN Knowledge Infrastructure.
The authors of the accepted papers, the members of the CLARIN National Consortia, the representatives of the CLARIN Centers, the representatives of the partner organizations and anyone interested in being part of the CLARIN Community will be welcome.
---
Call for Abstracts | Submission Deadline: 14/04/2023 28/04/2023 | Programme
Registration for Virtual Attendance (aimed at the general public) | Proceedings
---
Calls for CLARIN 2023 Additional Programme Elements
Call for Nominations for the Steven Krauwer Awards 2023 | Deadline: 28/04/2023
Call for Submissions for the 'Training and Education' Session | Deadline: 15/07/2023
Call for Application for the 'CLARIN PhD Students' Session | Deadline: 08/09/2023
Call for Registration for the Bazaar @ CLARIN 2023 | Deadline: 29/09/2023
---